Baby
Things to Know When Having Twins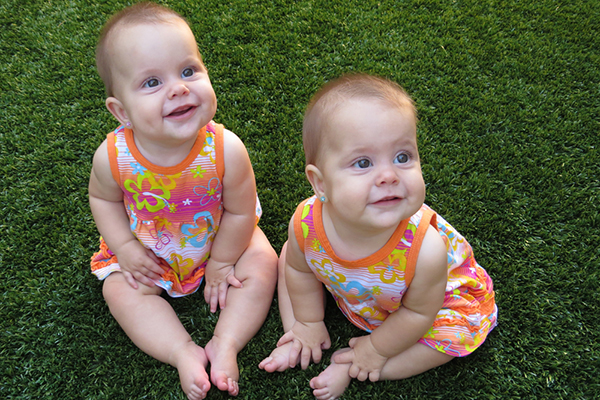 Expecting Twins?
Here are 13 tips from San Diego parents of twins

Do everything you can to feed both babies at the same time and get them on the same schedule. Don't listen to anyone who says you can't breastfeed two babies. If you want to breastfeed, it IS possible, very rewarding, and saves a ton of money!
Melanie Monroe, Spring Valley
Mom to Alexis and Annabelle, age 7 years
Take time to enjoy every moment. It's very overwhelming when twins come home. I was only able to really enjoy my babies once I learned to let go of everything that didn't matter. Did the laundry pile up? Yes, but who cares when I had these amazing little angels to love!

Reach out to the San Diego Parents of Twins Club. Even if you are unable to get out of the house to meetings in the first few months, there is a dynamic, caring and wise online community that can be an invaluable resource. www.sandiegotwinsclub.com

Make decisions that are best for your new family and don't apologize for them. Your friends with singletons will be well-meaning, but they will never understand where you are coming from. So, don't feel bad when you tell them you can't make it to the pool party when your husband has to work.
Ellen Immergut, San Carlos
Mom to Mac and Joey, age one year

Not long after the arrival of our identical twin boys, we realized the importance of treating them as individuals and giving them equal amounts of alone time with us. People see twins as a set rather than two individuals. Twin parents often treat them as a set by doing tandem activities such as feeding, napping, playtime and tummy time. Although these are timesavers we can't live without, helping them to develop as individuals is equally important.
Micah and Debra Nies, Clairemont
Parents to Augustus and Baldemar, age 4 months

I had a notebook with each twin's name on it and I logged the time I fed each, how much she ate, time of diaper change and if the diaper was wet or not. It was a lifesaver. One of my biggest fears was thinking I'd fed both twins and only feeding one; or diapering one twice and leaving the other with a dirty diaper.

We have identical twins, so we put nail polish on one little fingernail to help distinguish the twins in the beginning.

The first three months is when you need the most help, so accept help from anyone who offers it!
Angelica McDonald, Chula Vista
Mom to October Cover Kids, Jacqueline and Nazanine, age 6 years

Don't listen to all the advice and books too much. Do what works for you. Our twins "broke the rules" in many ways.

We always gave our one bottle of breast milk in the evening so mom could get a break, rest and hydrate.

You may need to divide and conquer to solve sleep issues. At bedtime my husband and I each took a baby and within weeks we had them sleeping through the night.

Accept help at night so you can sleep.

If you're going to breastfeed twins, splurge on a twin nursing pillow (it looks like a sofa cushion) and set up on a couch instead of in a chair. I could put a baby on either side of me and it was hands-free nursing from there. I could eat or read or rest.
Angela Kohls, Rancho Peñasquitos
Mom to Malia and Same, age 12 years

Announce your baby's arrival in Family Magazine free! Open to San Diego County residents with babies up to 11 months old. Submit details at www.SanDiegoFamily.com/resources/san-diego-babies/1373.
----------
Published: September 2014

Page 3 of 32