Baby
8 Great Ways to Engage Your Newborn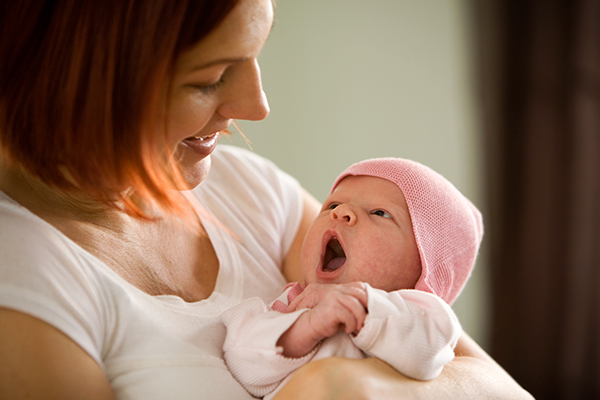 It took nine long months, but you finally have your sweetheart tucked safely in your arms. She is perfect and you will now spend your life trying to give this child the world. 

Research suggests that when parents positively engage their newborn babies, they increase that child's chances for a rich and productive life. Yes, even from this very tender age.

According to "For Our Babies: Ending the Invisible Neglect of America's Infants," author J. Ronald Lally notes that babies can read facial and vocal expressions by 6 months of age, therefore, the "loving support and stimulating experiences provided by caregivers lead children to function better" now and later in life.

Read on for eight great ways to engage your newborn for increased emotional and physical well-being.

Sing. Don't worry about whether or not you can carry a tune. Your baby has already fallen in love with your voice. So serenade her with sweet sounds that will settle her soul and keep her feeling close to the sound of you.

Smile. It doesn't take very long for newborns to recognize faces and expressions. So, let the first thing she sees be your warm and loving smile. Don't be surprised when she returns the gesture.

Dance. Turn on the radio, hold your little bundle close to your heart and sway with the hum and vibration of your favorite music. Country, classical or even soft rock—it doesn't matter what style of music gets you moving—just dance.

Talk. Of course, baby will not understand you at this point, but she will certainly respond to the timbre of your voice. Speak calmly and use endearing inflections as a way of engaging and even teaching this new little person the value of communicating through speech.

Show. It's not too early to introduce your new love to colors and shapes. There are soft starter books for babies that show colors and shapes to stimulate young minds.
Touch. Cuddle your newborn often. Friends and family may caution you not to spoil your little one, but the fact is, babies feel most secure when they are swaddled and held close. Don't worry, this time in your life is fleeting. There will be plenty of time for your newborn to grow her independence.

Read. OK, so it is a little early for books, but within just a few short months your newborn's ear is going to be trained to hear the soft and subtle cadences of your voice as you read. Think, "Goodnight Moon." Its lyrical rhythm is the perfect reading primer for babies.

Mirror. If baby sticks out her tongue, you do the same. When she clucks and babbles, babble back in response. By mirroring your newborn's attempts at communication, you are validating her verbal cues that request your attention. These are the building blocks of dialogue.

----------
Kerri S. Mabee is a longtime contributor to San Diego Family Magazine.

Published: October 2014
Page 3 of 35