Family Travel
Get Started with RV Camping
Taking It on the Road, Family Style!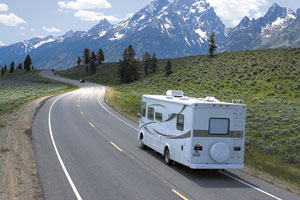 During an email session with an old friend about our summer plans, I mentioned that our family planned on taking our annual four-week road trip in our motor home. My friend emailed back and said he thought I was very "brave" to set out on such an adventure with two young children (ages 2 and 5). I chuckled and wondered if he knew how much he was missing out on by shirking away from the idea of such a fun trip with one's family.

My husband and I have been "RVing" for over 10 years. We have swapped our motor home styles and sizes as our needs have changed and as our family has grown over the years. When we first started traveling, we took only short trips and actually didn't go often enough to get the full benefits of "motor homing." We certainly had some blunders that seem funny now. In fact, on our first trip in the motor home to Pine Valley, we forgot our pillows and could not get the outdoor grill lit to cook dinner. After giving up on the grill because we had no flashlight and it was getting dark, we decided to bake dinner in the motor home, but couldn't get the oven lit! Going to bed a little hungrier than planned, my husband cut his back open on the curtain rod sticking out of the window over our bed. It was that night that we knew motor homing was right up our alley!

Funny story aside, when we first started out in our little 24-foot RV, we didn't notice as many motor homing families with young children as we do today. At most campgrounds you roll into nowadays, you will probably see little bikes, skateboards and toys near many of the already parked motor homes. We have noticed a great trend of families getting out in the motor home to be together.

We have discovered a new world of family fun and family bonding within the walls of our motor home. We saw the Grand Canyon when our son was only six months old. We ventured up from southern California all the way to the Canadian border with stops everywhere in between in our motor home. Our kids love to pick out good, old-fashioned postcards to send off via "snail mail" to different family members on every trip. They keep a count on the states we have visited and have a list of states they want to call upon. Besides seeing amazing geological and natural wonders, breathtaking varieties of scenery, and unique animals we have truly escaped the daily grind so we can tune into our kids and each other. Once we are settled into a campsite, our kids burst out of the motor home to climb trees, dig in the dirt, collect rocks, and keep a look out for animals. They search for the "best" playgrounds and ride their bikes at every stop we make. After a few days on a new trip, my husband and I realize we are able to clear our heads and suddenly have energy to have fun with our little ones!

On our RV trips, we bring our cat, we cook for our little traveling family, play games inside and out, walk together, talk together, read, solve puzzles, enjoy music and movies. Don't get me wrong, there is still the usual daily housekeeping, but it all seems easier and less tedious as we float our way along the highways of our country. We have met so many unique people during our trips. Some folks were locals; some of them were from other countries. Some of them were "full-timers" and some of them were just out for the weekend. Most of them have been amazingly nice and they usually have interesting stories to share. They help remind us of just how many people there are in our big world. There is so much learning to be had from a trek out on the road.

As our world gets more and more overloaded with technology and busy schedules, our family clings more tightly to the wonderfully simple idea of unplugging for a while and jumping into our motor home for a trip. Not only do we come home with fun pictures of our wanderings, but are we able to build special memories for our kids. We want to spread the word and tell families what enjoyment can be had from packing the family up for a trip in the RV.

Do your homework to maximize your RV trip. Here is a link to check out how your campground choice fared for other RVers: www.rvparkreviews.com/search.php.

If you don't have a motor home, rent one from California RV Rentals & Service in Santee. They even deliver and set up trailers at local campgrounds, if you prefer.
Notable campgrounds around San Diego County.
Some are rustic and some more resort-like. Check each website to see what suits your RV needs and camping interests. AAA members save money on reservations with campgrounds that honor AAA memberships.

-------------------------------------
Autumn Johnson is a freelance writer and mom of two young children. She has been traveling in a motor home searching for fun for over ten years. She can be most often found loading the motor home for the next trip on the road.