Seasonal Happenings
How to Stay Connected with Grandparents Who Live Far Away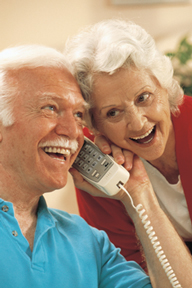 How to Stay Connected with Grandparents Who Live Far Away.
Fostering grandparent relationships long distance.

For grandparents, a small voice saying, "Hi Gwampa! Whatcha doin'?" brings a big smile. Indeed, to our parents and in-laws receiving a phone call from the little munchkins they call the grandkids is certainly right up there with a Grand Prize phone call. There are great riches involved in both kinds of calls.

In this age of yearly job transfers and a global business economy, many families maintain long-distance family relationships. A century ago, being halfway across the country or even halfway around the world, would have made contact rare, if not impossible. Not so today. With the aid of computers, fiber optics and fantastic shipping resources, we have the opportunity to cultivate meaningful relationships even if our face-to-face contact is less often than every day.

Encouraging and supporting multi-generational relationships, those between your parents (or grandparents) and your children, is challenging, especially across the miles. But, the affection, the care, and the friendships produced will benefit you and those around you. Here are some suggestions as to how to bring those about.

Make frequent phone calls. If your budget allows, invest in an unlimited long distance telephone program so that your family can speak freely. Encourage your little ones to pick up the receiver as well. Children as young as one year old will be fascinated by the voice they hear magnified from that piece of plastic.
Explain to the grandparents that your kids might not be super talkative, or know the art of carrying on conversation. Suggest topics that the grandparents might ask your child about. If phone calls are a regular habit, your kids will open up more and more as they grow older and will look forward to those telephone chats.

Send pictures often. Whether by snail mail or electronics, pictures are getting easier and easier to send. Pre-address several envelopes and keep them ready for a few duplicate photos every month. If you have a digital camera, email a few every time you download your pics. Children grow so fast; grandparents will enjoy seeing how they change. Likewise, make photos of the grandparents available to your children so that they will be able to associate faces with names and voices. Keeping a scrapbook or photo album handy is a great way to do this. Consider placing framed pictures in the kids' rooms. If you have photos of grandparents and children together, that is an excellent way to reinforce happy memories.

Share stories. If your children are old enough, encourage them to share an exciting bit of news with the grandparents. Prompt a phone call, if necessary. Or just make the call yourself. We all love to hear our mom's laugh as we tell her what the boys' latest antics have been. These anecdotes help her to know their personalities and to ask better questions when she talks to them. Her tinkling giggle reminds us to enjoy these fleeting moments of childhood. Sharing stories of family helps shape children's understanding of their roots and imparting the affection that we have for our own parents. Keep stories positive, particularly while kids are young. They will discover soon enough that parents are human, too. Let them enjoy a foundation of love and respect for their elders as well as to forge relationships on their own.

Write letters and email.
Whether your family prefers classic pen and paper or electronic mail, encourage a pen-pal relationship between the generations. Very young children can dictate what they want to say while you transcribe it for them. Letter writing is also a helpful way for young students to practice penmanship and writing skills.

Start a blog. Free Weblogs seem to abound on the Internet. This is an easy means of communicating stories and pictures to any family or friends that live far away. Regularly post pictures, stories and even birthday wish lists for the grandparents to peruse. While it is obviously not as personal as other methods of communicating, it is a quick way to share what's going on in your lives.

Send care packages. As time and your budget allow, engage your children in preparing gift boxes to send to their grandparents. This can include crafts they've made, pictures they've drawn, or stories they've written. In sharing these with your parents and in-laws, you are inviting them into the everyday part of life that they are missing. Allow your children to be creative and give them some choice over what is included. You'll be surprised how touched the grandparents will be.

Plan visits. Time seems to go by so fast. Money seems to go even faster. But, if you can swing it, plan to visit the grandparents on a regular basis. Children can know and love their grandparents, despite the distance. The value of these relationships, relationships that will last for decades, far surpasses anything a sweepstakes can offer.

Jessica Fisher is a freelance writer and mom to six children.