San Diego Family: Digital Issues
San Diego Family Magazine - September 16
September 2016 ISSUE -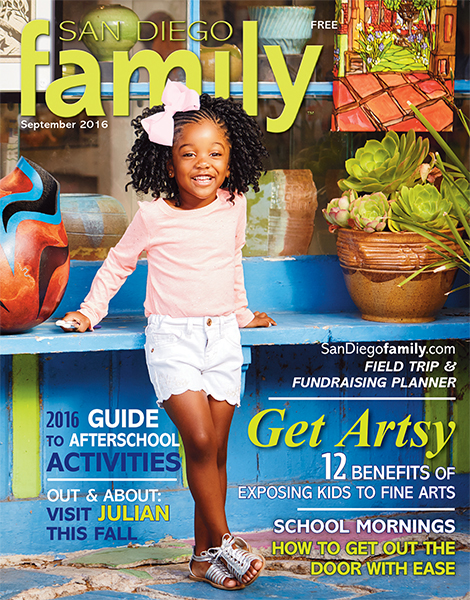 It's September in San Diego

and that means the kids are back in school.

Page 30 has our Afterschool Activities Guide. Most of us are working parents and that means we need a place for the little ones to spend time after school. We have answers for you in a nicely organized chart. Browse through it and choose where you would like to have your kids spend their afternoons this fall. Be sure to let them know you saw it in San Diego Family Magazine!
Pokémon GO for Parents
What parents need to know

School Mornings
How to get out the door on time

What to Expect at 6th Grade Camp
Adventures at Cuyamaca Outdoor School

Get Artsy
12 benefits of exposing kids to fine arts

Discover the Future with Robotics
A fun and rewarding activity for all ages

Put the Fun Back into Fundraising
Unique ways to raise funds for your cause

Out & About: Julian
Time to plan your family day trip!

September Calendar of Family Events

Reader's Page
Featuring artwork of San Diego kids

Event Planner



Check out San Diego Family's Pinterest Boards for educational resources, holiday round-up (including crafts and recipes), party ideas, last-minute and DIY crafts, and more!
Find past digital issues of San Diego Family Magazine here >