San Diego Family: Digital Issues
San Diego Family Magazine - August 16
August 2016 ISSUE -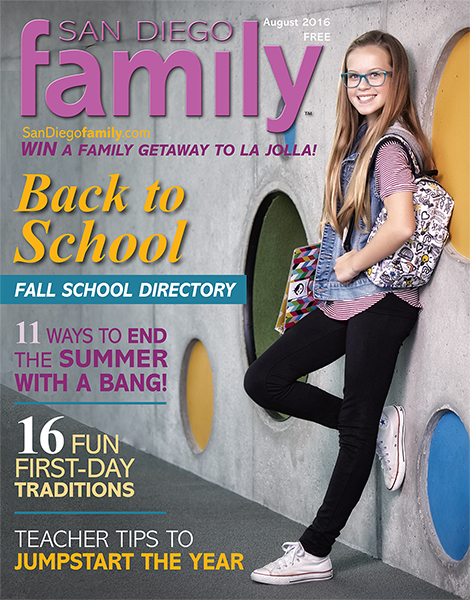 It's Back to School in San Diego! We have our FALL SCHOOL DIRECTORY to help with finding the perfect school for your "grasshoppers".

Explore Coastal San Diego with Eco Tours
Ocean Connectors now offers public tours

Teacher Tips to Jumpstart the New Year
Advice from those who know best

Tips for High School Freshmen
From one high school student to another

16 Fun First-Day-of-School Traditions
Make memories with these great ideas

Back to School Essentials
Supplies that put the "cool" in school

Kind of a Big Deal
Raising kind kids

Does Your Child Have SPD?
Sensory Processing Disorder 101

End the Summer with a Bang!
It's not too late to celebrate

Reader's Page - Summertime Family Fun
Photos of local parents and kids


Check out San Diego Family's Pinterest Boards for educational resources, holiday round-up (including crafts and recipes), party ideas, last-minute and DIY crafts, and more!
Find past digital issues of San Diego Family Magazine here >