Indoor and Outdoor Games
Sports Fun and Fitness for Families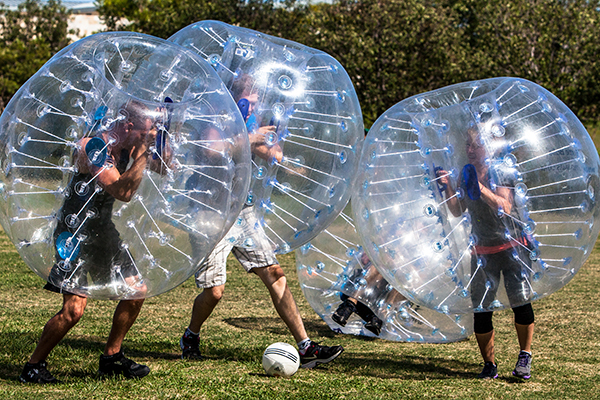 6 non-traditional sports that guarantee family fun

San Diego residents can enjoy sunshine and outdoor activities all year long. So, gather up the kids and spend some quality time together while increasing your heart rate. Not an athlete? Not to worry. There are a number of non-traditional activities that families can enjoy to stay active and healthy.

Foot Golf
Played on a green fairway, foot golf requires players to kick a soccer ball into an oversized cup instead of swinging at a golf ball with a club. "My husband, daughters (ages 17 and 12) and I played foot golf at Welk Resort and had an absolute blast! No experience is required, but it's probably best for kids ages 8 and up," says Lisa Gipson.

Welk Resort, Escondido
10 a.m. to 6 p.m.
$15 per person; $10 for 17 and under
Includes soccer ball and 18 holes of Foot Golf on the Oaks Course

Visit Welkresorts.com or call 760-749-3225.

Bubble Soccer
Bubble soccer is an exhilarating sport for families. Think of it as a mix of soccer and sumo wrestling—all while you're wrapped up in bubble wrap. The result is a hilarious game that the family will love. San Diego Bubble Soccer owner Jake Sibley says the sport is do-able for kids age 7 and up. "The only thing that will keep you from scoring is laughing too hard," Sibley says.

Where: All supplies delivered to your location.
Cost: A variety of packages available. 
Includes bubble suits, netted goals, team colors, boundary markers, soccer ball, scoreboard, referee, support staff and shade canopy (if needed). 
Visit Sandiegobubblesoccer.com or email info@sandiegobubblesoccer.com.

Lawn Bowling
Lawn bowling is a great way to engage fun-seekers of all ages. This popular outdoor game is played on a rectangular manicured lawn (or bowling green) with the aim of rolling heavy balls so they stop as close as possible to a smaller ball. The trick is to keep the ball on the field to remain in play. All players need is a good eye and a steady hand.

San Diego Lawn Bowling, Balboa Park
Hours vary.
$15/month membership dues for ages 12 and up. Free lesson available.
Includes training and facilities.
Visit SanDiegoLawnBowling.com or call 619-238-5457. 
Youth classes also available in spring at Coronado Lawn Bowling Club. Call 619-319-5509 for more information.

Disc Golf
Disc golf is all the rage these days, luring kids and their parents to the fields for a good time. This sport is played like traditional golf, but with flying discs into a basket instead of balls and clubs. The player with the lowest total "strokes" for the entire course wins. Athletic prowess is not required.

Disc golf course at Morley Field in San Diego
Open 365 days a year, sunrise to sunset
$3/weekdays; $4/weekends
$1.50 for disc rentals
Visit Morleyfield.com or sandiegoaces.com for a list of fields throughout San Diego County.


Ping Pong
This is a time-honored game that parents and kids love. All you need is a paddle, a tiny ball and the will to win. Set up a table in your garage for some late-night "tournaments" or consider taking it to the next level at the San Diego Table Tennis Association.

San Diego Table Tennis Association, Balboa Park
Hours vary.
$5/adults & $2/juniors without membership; free with membership.
Includes ping pong table, balls, paddles and other supplies.
Visit sdtta.org or email chairman@sdtta.org.

Pickleball

This unique game is based on the principles of tennis but played on a badminton-sized court with a low 34-inch net, paddles and a whiffle-like perforated ball. All ages are challenged with this fun indoor and outdoor sport. "Pickleball is a wonderful sport for families," says Marcia Fernando. "It's low impact and requires half the amount of running as tennis. There are numerous places throughout the county to play and many are free!"

Coronado Tennis Center
Saturdays at 2:30 p.m.
$2 for drop-in play
Includes court and all supplies.
Visit Coronadotenniscenter.com/tennis-rates/ or www.usapa.org to find a location near you.
It's been said that a family that plays together, stays together. So, what's stopping you? Get outside and have fun!

----------
Kerri S. Mabee is a longtime contributor to San Diego Family Magazine.
Published: December 2014