Crafts For Kids
DIY Funny Valentine's Cards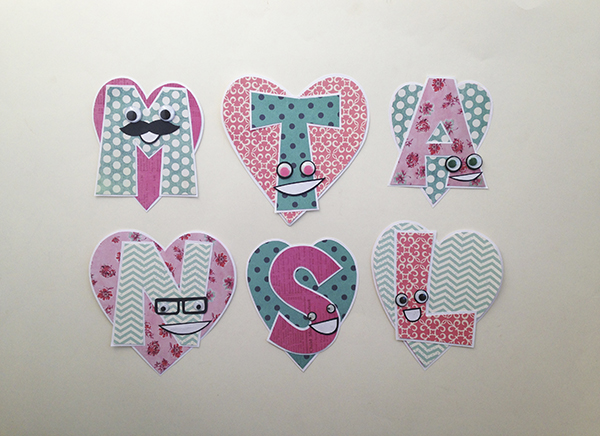 Help the kids make funny valentines for classmates and friends, using the first initial in their names, festive paper and funny features. Happy Valentine's Day!

Supplies
A variety of colored, patterned and white paper
Scraps of black paper
Pencil
Scissors
Glue Stick
Markers
Self-stick googly eyes
Letter and heart stencils (optional)

Directions

Use a pencil to lightly draw each friend's first initial onto pretty paper (draw the letters free-hand or use a stencil). Make them any size; about 4 inches tall works well.
Cut out the initials.
Use a glue stick to adhere each letter to white paper; then cut around them, creating a thin white border around the letters.
Draw hearts that are a little bigger than the initials onto colored/patterned paper.
Repeat step 3 with the hearts to create thin white borders.
Glue each letter on top of a heart.
Attach googly eyes (or cut eyes from paper and glue them down). Optional: cut and glue a black paper border behind the eyes before attaching.
Cut out mouths, glasses, moustaches and other features from black and white paper and adhere them with a glue stick.
On the back of each valentine, write a message featuring a word that starts with the same letter. For example: Ryan, have a Remarkable Valentine's Day! Or, Ryan, you're Remarkable! See the alphabetical list for word ideas.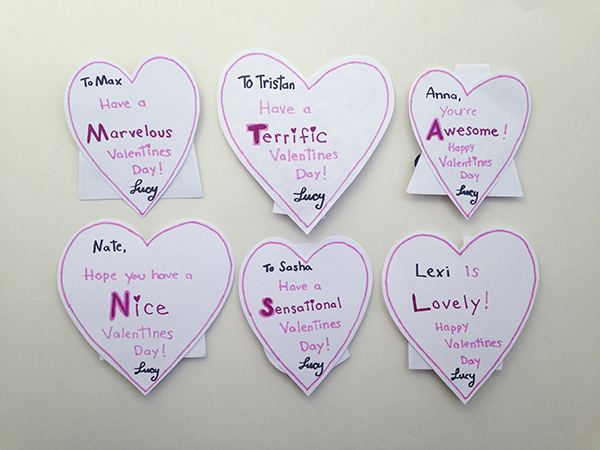 Word ideas
Amazing, Astounding, Awesome
Beautiful, Brilliant
Classy, Cool
Dazzling, Dynamite
Excellent, Extraordinary
Fabulous, Fine, Fantastic, Fun
Good, Grand, Great, Groovy
Handsome, Heartwarming
Impressive, Incredible
Jolly
Keen, Kind
Lovely
Magnificent, Marvelous
Nice, Nifty
Outstanding
Peachy, Perfect, Pleasant, Pretty
Quaint
Rad, Remarkable
Sensational, Splendid, Smart, Super, Swell
Terrific, Tremendous
Unbelievable, Unique
Vibrant
Wonderful, Wondrous
X-cellent, X-traordinary
Yummy
Zany

---

Pamela Maxwell is an artist, author and mother of two growing boys. Her craft and scrapbooking projects have appeared in numerous books and magazines. Photos by Pamela Maxwell.
Published February 2016