Restaurant Reviews
Creamistry - Edible Science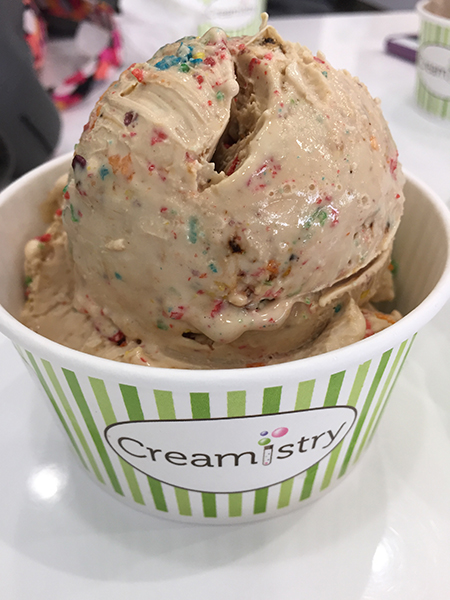 If your family gets a kick out of chemistry, they'll love experimenting at Creamistry, an ice cream chain in Clairemont Mesa, Carmel Valley and San Marcos (coming soon to National City) that offers a brainy twist on your favorite frozen dessert.

At Creamistry, ice cream is made fresh before your eyes. A "creamologist" adds liquid nitrogen to the mixing bowl, creating a billowy, foggy reaction as your dessert freezes instantly. The rapid freezing process keeps milk molecules extra small and prevents ice crystals from forming. The result is the smoothest, creamiest ice cream you've ever tasted. Thank you, science!

First, choose from four creamy, liquid bases: premium, organic, non-dairy coconut or sorbet. Next, choose from more than 70 flavors and mix-ins. Once your selections are made, watch the impressive chemistry for yourself.

I picked the coconut cream base with pistachio flavor and upgraded to a chocolate bowl. My toddler opted for a mango sorbet; my husband chose cheesecake with whipped cream in a waffle bowl. We were all wowed by the impossibly smooth texture of our indulgent frozen treats.

My son has a mild peanut allergy, so I was happy to see that each order is prepared with a fresh bowl and paddle, reducing the risk of cross-contamination.

My hypothesis: your family will have a blast at Creamistry. Visit www.creamistry.com to learn more.

What's the mystical fog around the ice cream?
This unique process begins with the nitrogen at -321 degrees Fahrenheit. As the liquid nitrogen is exposed to the ice cream base, it heats up and changes phase from liquid to gas. Since the base does not absorb the nitrogen, the gas escapes the prep bowl and heats to room temperature. During this process the nitrogen cools and condenses the moisture in the air, forming a fun fog effect.
---
Anne Malinoski is a freelance writer and mother of two boys. She likes her ice cream lactose free.
Published March 2017