Restaurant Reviews
San Diego's Best French Toast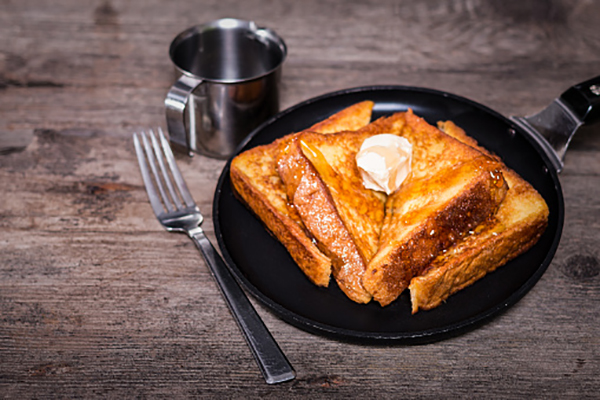 Love French toast? Yeah, so do we. But not all French toast is created equal. It's as varied as people's preferences. Check our list to find French toast "styles" that speak to you.

Café 222
222 Island Ave., Downtown
Home of the famous Peanut Butter & Banana Stuffed French Toast featured on Food Network's "The Best Thing I Ever Ate." If it's good enough for Bobby Flay, it's good enough for me.

Raglan Public House
1851 Bacon St., Ocean Beach
Don't let this burger joint fool you. On weekends, Raglan Public House has its customers drooling over their half-baked challah bread French toast with a custardy center.

Hash House a Go Go
3628 5th Ave., Hillcrest
Amish-style bread, bananas, cinnamon cream and pecan maple syrup. Need I say more? Stop by for a sweet start to your day.

Nutmeg Bakery and Café
12640 Sabre Springs Pkwy. #107, Poway
The Nutmeg Bakery and Café offers a signature Brioche French Toast with fruit compote year-round, but don't miss their seasonal offerings (could be strawberries in May or pumpkin spice in the fall).

Brockton Villa
1235 Coast Blvd., La Jolla
Located right across the street from the ocean, the view is second to none. Coast Toast is their house specialty: souffle-like with a hint of orange.

barleymash
5th & Market, Downtown
Angry Orchard Bread Pudding French Toast—the name alone is intriguing. Served with seasonal berries and applewood-smoked bacon, this original French toast is a customer favorite.

Breakfast Republic
2730 University Ave., North Park
From S'mores or Lemon 'n Coconut to Banana Split or Gluten-Free Cinnamon Raisin, Breakfast Republic offers seven types of French toast. But why choose just one? They even have a French Toast Sampler on the menu. Truth.

Is your favorite French toast spot missing from this list? Email editor@sandiegofamily.com and tell us about it: where to get it, website, and why it's awesome. Put "Awesome French Toast" in the subject line.
---

This list is a collaboration of Lisa Gipson (editor) and Lorea Mendiguren (intern). Both are French toast fanatics.
Published May 2016