Restaurant Reviews
7 Places to Get Pozole in San Diego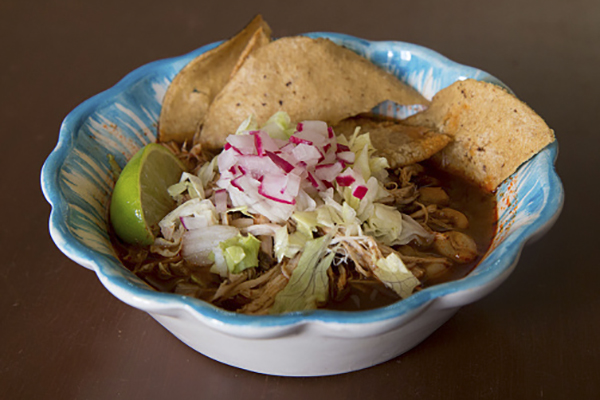 Pozole is a traditional Latin American stew or soup that is mainly made of hominy. Classically made with pork, modern variations sometimes substitute chicken or seafood and add their own twist with chile, lime, or salsa garnish. Care to try? Here are seven local places to get a delicious bowl of pozole—tested and approved by San Diego pozole enthusiasts.

Pozoleria Doña Maria
1660 Broadway, Chula Vista
619-425-8820
Pozoleria Doña Maria offers all three variations of the classic Mexican soup; stop by to satisfy your cravings for a red, green or white pozole.

Waterfront Bar and Grill
2044 Kettner Blvd., Little Italy
619-232-9656
www.waterfrontbarandgrill.com
Check out the Waterfront Bar and Grill to grab a delicious, steaming bowl of savory red pozole. Frequenters recommend stopping by on weekends for the best batches of the soup.

Menuderia Don Vicente
2637 Highland Ave., National City
619-336-0455
Menuderia Don Vicente is a hidden gem for some of San Diego's best authentic New Mexican food. Offering both a red pork pozole and a green pozole, it's a local favorite with a homemade flavor that never disappoints.

The Blind Burro
639 J St., Downtown
619-795-7880
www.theblindburro.com
Offering a great atmosphere and even better food, go to The Blind Burro when you're looking to satisfy your cravings for chicken pozole.

El Comal
3946 Illinois St., North Park
619-294-8292
www.elcomalsd.com
El Comal's pozole and other Mexican dishes are addictively savory; a local favorite and must-try.

Super Cocina
3627 University Ave., San Diego
719-584-6244
http://supercocinasd.com
Crowned by locals for having the best red pork pozole, Super Cocina is the place to go for a pozole with the perfect amount of each ingredient.

El Borrego Restaurant
4280 El Cajon Blvd., San Diego
619-281-1355
Available only on weekends, El Borrego's flavorful green pozole is the perfect end-of-the-week treat.


Is your favorite place to get pozole in San Diego missing from this list? Tell us about it! Email the details (including what makes it special) to editor@sandiegofamily.com.

Prefer to make pozole yourself? Here is the recipe for Food Network Star, Melissa d'Arabian's version of Chicken-Chile Pozole.


---
Lorea Mendiguren is a student at the Academy of Our Lady of Peace and a self-proclaimed pozole lover.
Published January 2016