Family Recipes
Valentine's Day Lollipops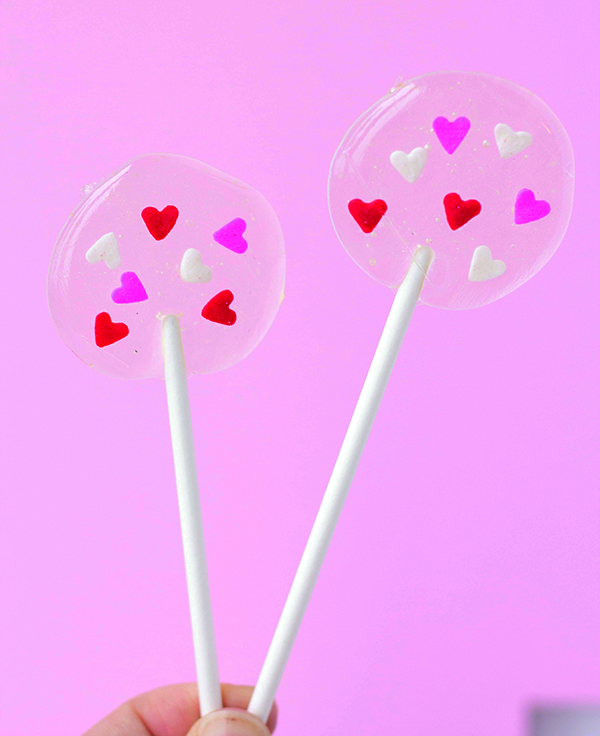 Homemade lollipops are fun valentines treats for kids to pass out to their friends and neighbors. The strawberry flavor makes them extra special, but choose whatever flavor you like best.

Makes 12 lollipops

2 cups sugar
2/3 cup light corn syrup
¼ cup water
Candy thermometer
2 tsp. strawberry extract or flavor of your choice
12 (6-inch) lollipop sticks
2 Tbs. heart-shaped sprinkles


Line a cookie sheet with parchment paper or use a Silpat.
Combine sugar, corn syrup and water in a medium saucepan. Bring to a boil, stirring constantly. Boil for 5–7 mins. or until candy thermometer reaches 310°F.
Remove mixture from stove and stir in strawberry extract. Allow to cool in the pan for 30­–60 seconds.
Carefully pour liquid onto parchment paper to form small circles, then add lollipop sticks and sprinkles. The liquid will harden quickly, so move fast.
Let lollipops cool completely (10–15 mins.), then carefully remove them from parchment paper.

Holiday lollipops: Swap the strawberry extract for a cool winter flavor (such as mint extract) and/or substitute Christmas, Hanukkah or snowman sprinkles.
---
Excerpted from Kids' Treats: 50 Easy, Extra-Special Snacks to Make with Your Little Ones by Katie Wyllie. Used with permission of the publisher, F+W Media, Inc. Photos courtesy of Katie Wyllie.
Published February 2016